Guess who this is....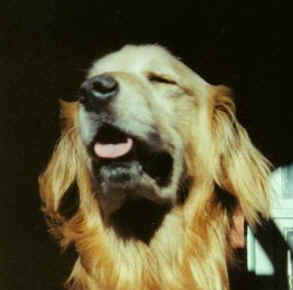 Berry is a lovable golden retriever with a big heart and a joyous personality. Born in April 1996, Berry was rescued by the Delaware Valley Golden Retriever Rescue (DVGRR) in October 1999 from an SPCA shelter where he had been relinquished by his prior owner. He had lived outdoors and was dirty, flea-ridden and underweight. After a brief but warm and loving stay with his foster parents, Lois and Richard, on November 4, 1999 Berry came to live with us. At the age of 3 ˝, he was home at last. We were determined to give Berry the easy life he had never had – the run of the house, an abundance of good food, lots of good walks and romps, a soft bed, and a glossy coat burnished by frequent brushing and petting.
We quickly found Berry to be a wonderful, ever-so-quirky dog, loving of attention, accepting of human snuggling, oft-times impervious to reprimand, and focused on food (and possible "food opportunities") in a way that made you certain that he had been hungry in his prior life. When Berry was diagnosed with lymphosarcoma just three months later, it seemed unfair --his new life was to be taken away before he had the chance to enjoy it. We resolved to give Berry as much time as possible.
We've bonded ever more strongly with Berry during his treatment. Like the day he first demonstrated his "superior water entry" by leaping off a low dam abutment into a creek – tail aloft, feet tucked, ears flying – Berry has surprised us with his spunk. And he has lit up the waiting room and oncology treatment room at the Veterinary Hospital of the University of Pennsylvania (VHUP) with his grin and wagging tail.
Want to see more pictures of Berry??? C'mon, you know you do!!! Just CLICK ON the following links....
Hey Kids!!! Guess what these are....
Baretta · Beh-Ree* ·Berry ·Bear-Bear · The Beast · Berry-Berry · Berry The Destroyer · Berry The Dog · Mr. Big Paws · The Bruiser · Bullet · Butterball · Crocodile-Puss · Crusader Doggie · Devil Dog · Dogdoggiedog · Furball · The Gentle Beast · His Nibs · The Hou-ooound · The Layabout · Little Red Fox · Lord Plushbottom · Mighty Mite · Mount Dogmore · Obadiah Dogberry · Pitiful Paw · Plume · Plushy · Pork Belly · Pretty Boy · Prince Valiant · Mr. Jowls of Eastview · Rat Tail · Seven-Ninths · Sir Peezalot · Mr. Snoot · Snootster · The Snuggler · The Supervisor · Swim-Fin · Tankini · Tiny · Mr. Toffee · Tragic Face · Tugger · Waggy · Mr. Wagwell......
*you have to be from Barbados to get this one right